Bora Bora Overwater Experience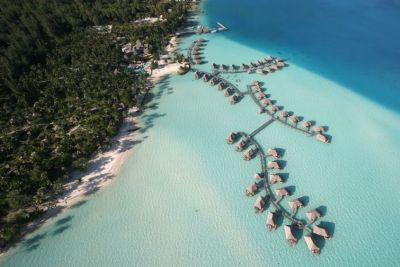 Bora Bora Overwater Experience
Undoubtedly the most celebrated island in the South Pacific, Bora Bora is French Polynesia's leading lady. Her beauty is unrivaled and her fame, unwavering. Bora Bora is one of the few places on earth that everyone hopes to witness in their lifetime—and once you see it, you are forever enamored. Bora Bora is located on a dormant volcano island, set on one of the most beautiful and crystal-clear lagoons in the world. The tallest point is the breathtaking Mount Otemanu at Bora Bora's center. It's easy to understand why this little 15 square mile island is revered as one of the most intimate and idyllic vacation destinations.
Your Itinerary Includes:
Papeete Meet & Greet
Airport Transfers Bora Bora
6 nights Bora Bora
6 Breakfasts
Customizing the travel experience, Swain Destinations is the leading U.S. provider of completely personalized exotic vacation experiences. Since 1987, Co-Founders Ian and Linda Swain, and their dedicated team of destination experts have offered American travelers the opportunity to design distinctive trips to intriguing international locales, including Australia, New Zealand, the South Pacific, Asia, India, and Africa. From adventure-packed trips to leisurely getaways, Swain Destinations curates
...